Boardwalk Bar and Grill
Come enjoy Jr's Ocean Bar and Grill, a classic of seaside heights bars, located in the middle of the historic Seaside Heights, NJ boardwalk. We feature daily drink and food specials all year long. Take a break from the Boardwalk and Ocean and come relax with us!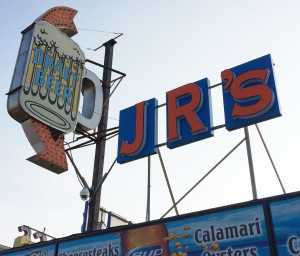 Jr's Ocean Bar and Grill is the perfect destination when visiting Seaside Heights! Enjoy a signature cocktail or ice cold draught beer serviced by our top notch bar staff by day! Every night Jr's comes out to play. Our non-stop nightlife will keep you coming back!
We are proud to have a boardwalk legend, Maruca's Tomato Pies attached to the bar. Proudly offering their classic cheese and sauce swirled pizzas and more!